This website is currently under construction. Please be patient and come back in a few days! Thank you very much for your understanding.
The team of Keßler Solutions
Keßler Real Estate Solutions GmbH is one of the leading companies in the area of facility management and CAFM. We offer holistic, sustainable solutions to well-known clients from industry, the financial and service sector, the public sector as well as research and education.
We owe the success of our company primarily to the qualifications and commitment of our employees. In the future, too, we want to consolidate and expand our good market position. This includes a comprehensive team of different areas: development, project management and editing, key account management, product and innovation management and many more.
If you are forward-looking, show initiative and are not afraid to take on responsibility – then apply with us, also proactively!
Aktuelle Jobangebote
Wir suchen zum nächstmöglichen Zeitpunkt Verstärkung im Bereich Projektleitung (m/w/d).
Es handelt sich um eine unbefristete Vollzeitstelle, aber auch eine Teilzeitposition ist auf Anfrage möglich.
Ihre zukünftigen Aufgaben:
Einführung der CAFM-Software beim Kunden
Mitarbeit bei (Juniorprojektleitung) bzw. Planung, Organisation und Umsetzung von Projekten der Daten- und Prozessdigitalisierung
Management von sowie Übernahme von Verantwortung für Teil- bzw. eigene Prjekte
Kaufmännische Beratung der Kunden bei der Einführung
Konzeptionelle Weiterentwicklung der Software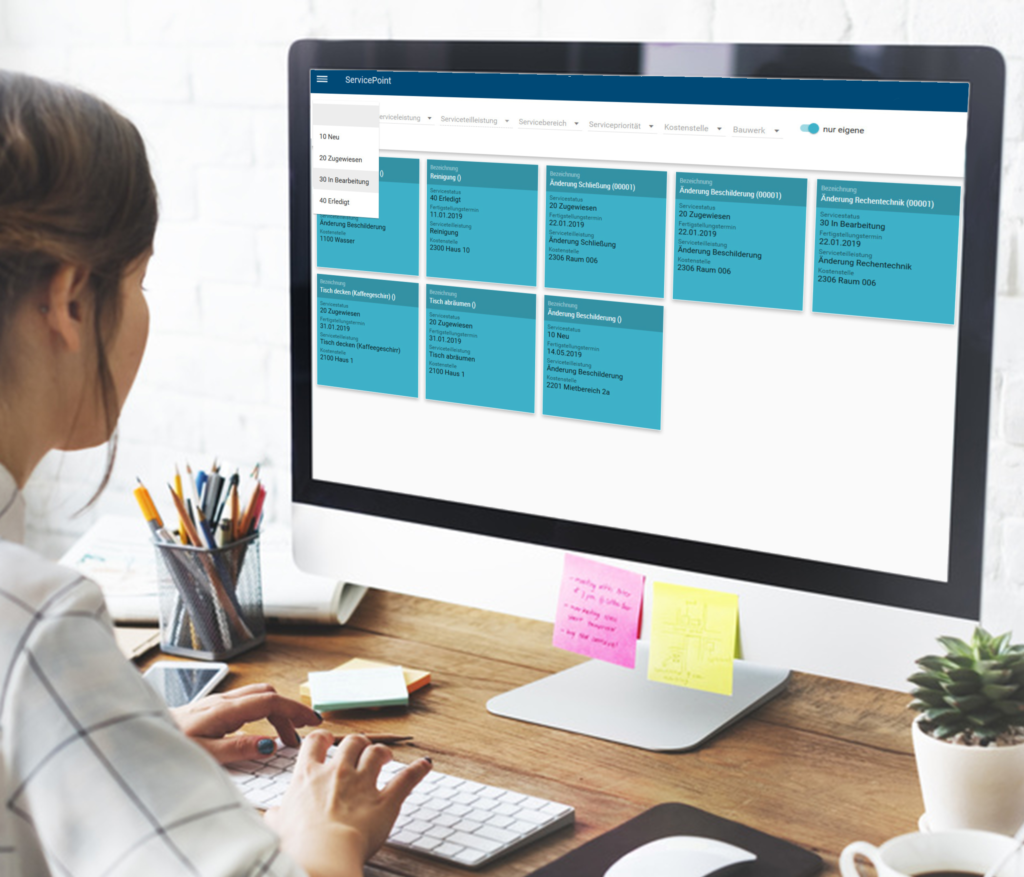 Ihr Profil:
Abschluss oder Studium im Bereich Immobilienfachwirt, Kauffrau/mann in der Grundstücksverwaltung oder vergleichbarer Abschluss im Bereich Wirtschaft
erste Erfahrung im Bereich Facility Management/ Software/ Prozessmanagement/ Anforderungsmanagement sind von Vorteil
Gute Analyse-, Problemlösungs-, Kommunikations-, Präsentations- und Argumentationsfähigkeiten,
ausgeprägte Kundenorientierung sowie Durchsetzungsvermögen
Eigenverantwortliches Arbeiten, Zuverlässigkeit und Qualitätsbewusstsein
Teamfähigkeit, gepflegtes Erscheinungsbild
Routinierter Umgang mit MS Office, Datenbanken und Internet
Sehr gute Deutsch- und Englischkenntnisse in Wort und Schrift
Bereitschaft zu fachlichen Weiterbildungen, grundsätzliches Interesse für die Facility Management Branche
Reisebereitschaft (zeitweise)