Integration of the "Occupational health and safety" portfolio into the Sustainability department
4. September 2023
In April of this year, Managing Director André Keßler presented the company's own approach to sustainable business models at the Web Event "Sustainable management in FM through CAFM and services" (in German). The visualisation is based on various specialist sources, such as the 3-pillar model with economy – ecology – social aspects as the equal pillars of sustainability. The three strategies of sustainable development must be applied in a complementary manner: Work better with what is available (efficiency),Analysing and tackling what can be changed (consistency) and creating awareness that "less of" is also an optimisation (sufficiency). External and internal transparency is also of central importance to Keßler Solutions and a necessary component of integrated, holistic business models.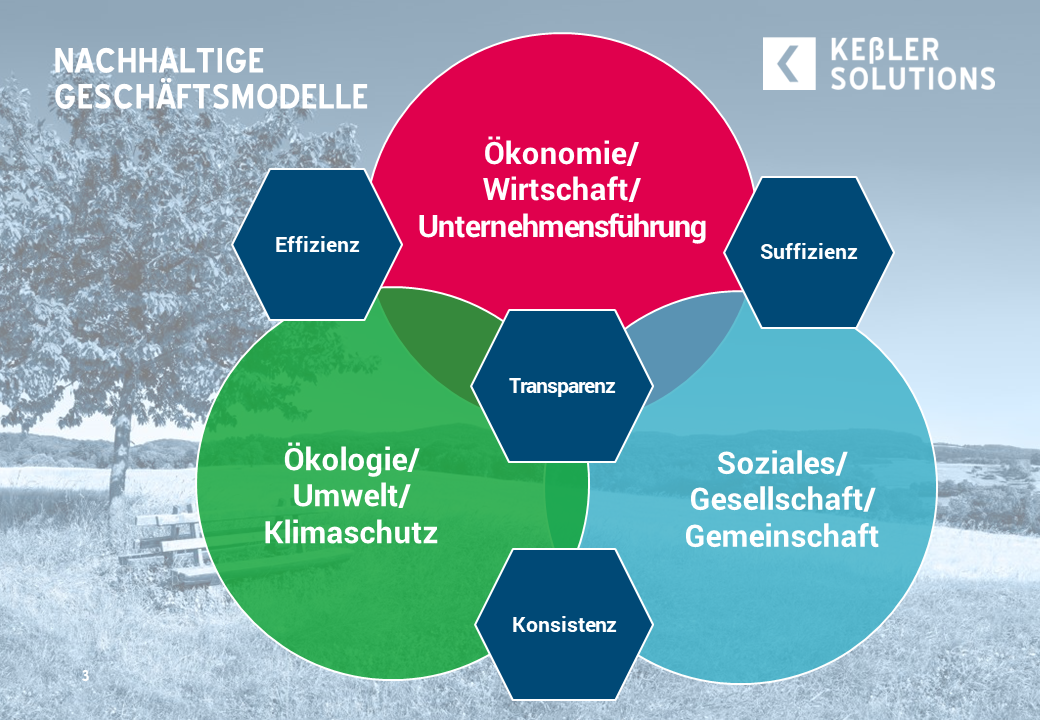 For the broad subject area of "occupational health and safety", there is an equivalent for all elements, for example:
Protection of property users from harmful environmental influences and optimisation of usage/working conditions, e.g. through risk assessments of workplaces and the resulting occupational health and safety measures,
Transparent planning, design and documentation of measures as part of efficient and legally compliant building management,
Integration of stakeholders in the measures to raise awareness of their importance (e.g. escape route plan, active involvement through employee training, e.g. first aid) and
Increased well-being through a greater sense of safety, e.g. creation of comprehensible operating instructions for technical systems or clear communication of responsibilities for occupational health and safety.
The scope and complexity of the tasks involved and the associated significance for the company as a whole make it clear that "occupational health and safety" is a central task of company management. All associated measures are important components of operator responsibility and therefore a management task: employers and property/plant operators are responsible for the safety and health of all user groups.
In the first half of the year, Keßler Solutions therefore decided to define the "Safety and occupational health" product portfolio as a central component of sustainable management and operation. Products and services are integrated into the "Sustainability" department. As part of the reorganisation, the overall package of modules, processes and services was given the new name "Occupational Health and Safety".
Ideal materials for managers and users

Managers are responsible for the fulfilment of statutory minimum standards (e.g. Occupational Health and Safety Act (ArbSchg) or Ordinance on Industrial Safety and Health (BetrSichV)). If necessary, tasks from the respective area of responsibility are to be delegated to trained specialist personnel. The implementation of these tasks should be documented in a comprehensible and transparent manner in order to fulfil the legal requirements. The team at Keßler Solutions has created new work materials for users of "AuG" in order to provide the best possible support for those responsible.
Users of the FAMOS CAFM system can be provided with a detailed and constantly evolving workbook. This goes far beyond the standard manual: process-orientated, concrete questions and requirements from practical application are worked through using real-life data.
A fictitious company with its own employees and company processes forms the framework scenario. Practical situations are played out in dialogue form with the relevant persona, e.g. Technical Manager Manfred Stark and FAMOS Administrator Anna Lühse, e.g. How do I create a risk assessment for a new TGA? An audit is due – what do I need to prepare? How do I draw up operating instructions? What happens after an accident at work?
The highlight: the fictitious company with all the processes discussed is integrated into the presentation database of the FAMOS CAFM system, so that these scenarios can be tested during introductions or training courses in the product family. Process overviews, so-called FAMOSkompakt, summarise and visualise the best practice examples. After familiarisation/training, these form a short and clear reminder at a glance.
Both – workbook incl. FAMOSkompakt and demo database (still only in German) – are constantly being expanded, e.g. if further use cases become available or if there are legal changes to procedural requirements.
Details on the occupational healtyth and safety can be found on the website on the topic: